Little Pnina and her siblings were found on a street in Tel Aviv, Israel, when they were only three weeks old. Someone had left them in a box by the side of the road to their fate. But luckily, the kittens met kind people who rescued them and took them to a shelter.

The kittens were given to different homes for support – a temporary home was also found for Pnina. After a couple of weeks of sensitive care, the kitty perked up, grew up, and became more and more curious. She loves to explore every corner of the house, and every day she finds something to do.
"Pnina is incredible," Danni Meyerson, founder of The Tiny Pet Rescue, told The Dodo. "She is delicate, gentle, affectionate, friendly and generally just perfectly lovable and amazing."

One day, when Pnina was playing with her congeners, she discovered a new toy in the form of a spring. When she tried to figure out how to play with it, she realized that she could fit inside it – and it quickly became her new favorite game!
At first, the kitty got stuck inside the toy, but then she realized that it could easily slip back out. While the little one was having fun, other cats became interested in the toy as well.
"All kittens love that toy and like to go inside it, but she took it to a different level," Meyerson said.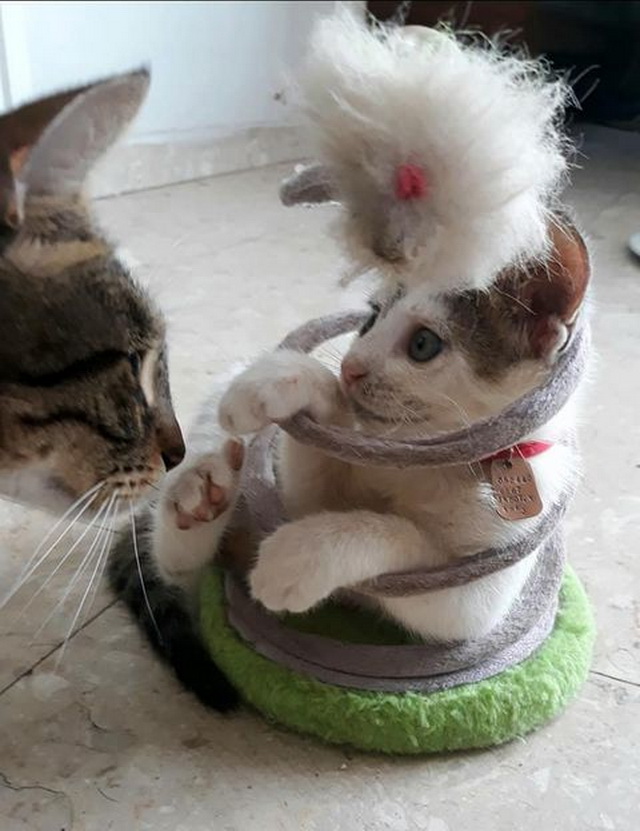 The caregiver couldn't stop laughing when she saw her pet inside the toy and immediately took a picture of her. Maybe it was the cute photos that contributed to this, but just a few days later, permanent owners were found for little Pnina.