Today, the renowned Hollywood singer and actress, Jennifer Lopez, turned 54, and she celebrated her birthday in style. She shared some stunning pictures on social media, captivating everyone with her radiant beauty in a white bra and panty set. The ensemble featured a light and airy fabric, adorned with fishnet trim and fancy straps, complemented by matching panties.
To complete her birthday look, she donned a white robe with a black and gold floral print and transparent silicone top stiletto mules. Jennifer's makeup was on point, featuring captivating smoky eyeshadows, eyeliner, and curled eyelashes, accentuated by her favorite chocolate-colored lipstick with a glossy sheen. She styled her honey-golden hair into a chic messy bun with loose curls.
The photos showcased Jennifer Lopez elegantly standing in front of a clothes rack, carefully selecting an outfit for the festivities. She revealed that her luxurious underwear was from the renowned brand Intimissimi, including a Sofia Balconette push-up bra, Brazilian 80s style panties, and a viscose satin kimono.
Fans and followers showered her with compliments, and many marveled at how incredible she looks at 54. Jennifer is known for her dedication to fitness, and she maintains her enviable shape through a rigorous exercise routine. Her daily workout includes 50 pull-ups, 50 push-ups, 50 squats with a 45-pound plate, abs exercises, and jump rope. She repeats this cycle twice, with 35 reps in the second set and 21 reps in the third set.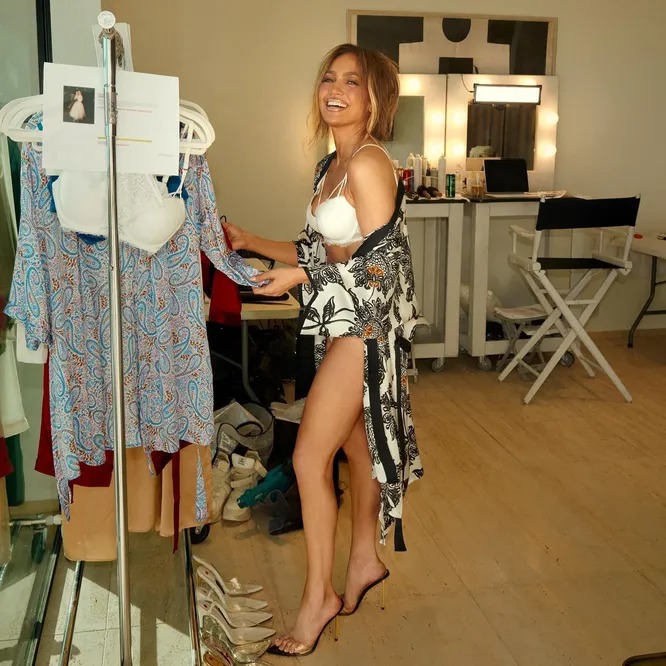 Jennifer Lopez is committed to her fitness journey, dedicating an hour to exercise four to five times a week, focusing on different muscle groups each day. Despite her busy schedule, she never misses her morning workouts, believing it sets a positive tone for the day and prevents any sense of laziness. She finds it more challenging to hit the gym later in the day, with other commitments already in place.
Her hard work and dedication are undoubtedly paying off, as she is overjoyed with her appearance, feeling even more confident and stunning now than in her early twenties. Jennifer Lopez recently celebrated her first wedding anniversary with Ben Affleck, making it a special and joyous occasion for her fans as well.