At the Met Gala in New York, 30-year-old supermodel Karlie Kloss announced her pregnancy. She wore an elegant black dress with white pearls, which was a modern take on a dress from Karl Lagerfeld's 1983 Chanel collection. Kloss wore natural makeup and styled her long hair in a neat ponytail with a black bow.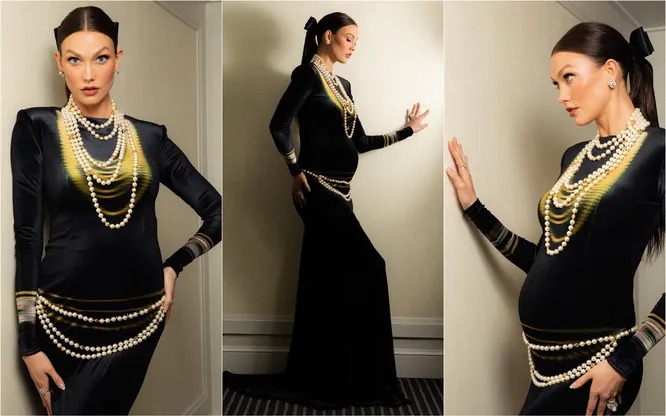 She completed her look with shimmery earrings, a ring, and high heels. Kloss attended the event with her husband, 37-year-old businessman Joshua Kushner, who supported her throughout the night. Their first child, son Levi, was born in March 2021. During her appearance, Kloss discussed her uncertainty about styling her growing belly and revealed that her previous pregnancy occurred during the pandemic.
Kloss received a lot of support from fans and fellow celebrities, including Katy Perry, Gwyneth Paltrow, and Tyra Banks. Kloss and Kushner first met at the 2012 Victoria's Secret Fashion Show after-party and went public with their relationship a year later. They officially announced their relationship in 2014, got engaged in 2018, and tied the knot later that same year.
The Met Gala is a highly exclusive event where stars climb the majestic staircase to attend a no-selfie party. It has been taking place since 1948, and this year's theme was "Karl Lagerfeld: Beauty Line" in honor of the late German designer who was the creative director of Chanel for many years until his death in 2019.