This newborn baby, still blind and very tiny, was picked up on the streets in Canada. The baby weighed only 82 grams when she was found, but she was lucky to be in good hands. People took her to the Tiny but Mighty shelter, where she was happily accepted.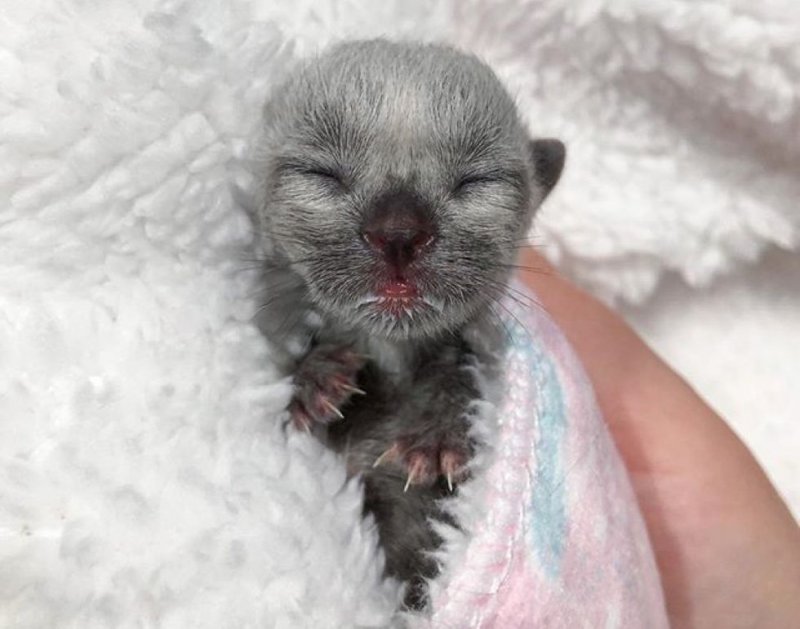 Rescuers immediately noticed that the kitten has an unusual color – a "fever coat" (or "feverish" color). This coloration occurs if the kitten's mother suffered from an infection during pregnancy. It did not interfere with the baby in any way.\
The baby was named Janie, and they began looking for a shelter for her right away. By coincidence, two months ago, a volunteer named Melissa had found a pregnant cat who had given birth to kittens. The woman offered to take Janie to her house to try to introduce her to that mama cat.
That's how Janey ended up in Melissa's kind hands. Before handing the baby to her new mother, the caretaker spent hours feeding her from an eyedropper, restoring her health. Her love and care soon paid off – Janey weighed 100 grams!

Two weeks later, it was time to introduce the baby to her "adoptive" mother. The kittens, a June kitten, were older than Janie, but in spite of this, the kitten was accepted right away. Just when she heard her squeak, she ran up to her and started licking her.
"June had to lick and clean her for a good 10 minutes, and then she cuddled up with everyone while June's babies were nursing. It was such a sweet moment to witness."
June accepted the baby as her own and allowed her to drink her milk along with the other kittens. She didn't leave Janey's side and washed her every 10 minutes. In addition, all the kittens loved the baby and treated her very gently.